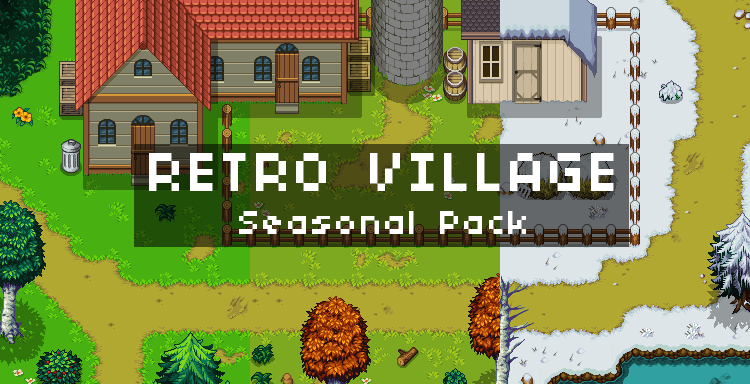 Retro Vilage Seasonal Pack
Comments
Log in with your itch.io account to leave a comment.
Here's a link to a side by side comparison in case I'm not making nay sense. Need help setting the grid for the terrain tool. Thanks!
Hi lee510, thank you for purcashing our assets pack!
If you want the grid size to be 24 x 24 pixel, when created new map make sure you change the tile size both widht and height to 24. Hope that helps :)
I'm sorry I can't open that link because in my country imgur is blocked. If you aploaded somewhere else then we can look into it.
If you have anymore question please let us know!
Thanks for the reply. However, my question is not about grid size. What I need is information on how to setup a terrain brush with Tiled Map Editor. Placing tiles one by one will take forever as I have about 30 total levels to create. Below is a new link. Thanks.
I updated the tileset so that it's working with terrain tool. Please download the tileset again. :)
Thank you for doing that! I really appreciate it. This tileset is awesome!!
I just purchased the tileset and am having trouble setting up the terrain tool on Tiled Map Editor. I found a Tiled tutorial for 32 x 32 pixels but can't figure out how to do this for 24 x 24 px tilesets. Can you please help?
I have now purchased your assets.
But I do not know how to use tile maps.

I want to use your image, can you give me a PSD?

If possible, please e-mail us at urikklim@naver.com

Thanks~!!
Hi crablue! Thank you for purchasing our assests pack. :)
You can use this tileset in map editor program such as tiled or game engine such as RpgMakerMV or any other game engine.
If you have anymore question feel free to leave them in comment below
Cheers~
These are so lovely! I'd love to seem more in this style~
Much heartwarming tileset :)

I would love to see another retro style tileset from you!
This look Beautiful :D, I cant wate to try it out and edit the colours :D thanks
Any time. How did you make the tileset I always wanted to learn :D. Do you have any videos or references on how to start make them. would you be willing to teach me how to make one if you don't mind :D.
Do you have any of the resources links you used on Pixelation :D, I am having some trouble finding tutorials. Where did you start when you where looking into creating your own tilesets :)
The pixelation is community for pixel artist. However, Tileset aren't necessary to be pixel art. You can for example create a tileset with digital painting or vector image.
If you want to make tiles you need to learn how to tiling, grid, etc. The youtube video that I mentioned before was my starting point. It explain how the tileset works and how to tiling them.